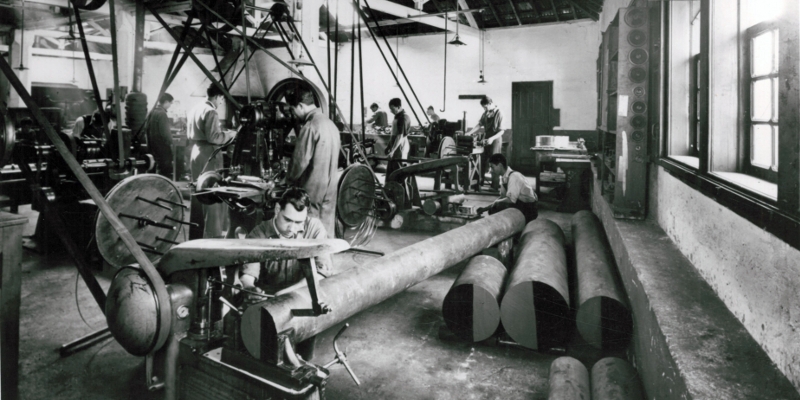 With 85 years of existence, Ramada Aços has built its path in several phases. Each one of them always with the objective of solidifying its position in the market and continuing to earn the trust of each client.
1935 – Francisco F. Ramada creates the company F. Ramada whose business area was the wood sawing band.
1939/1945 – The business area for the commercialization of special steels from Sweden is developed, resulting in a partnership with Uddeholm and its exclusive representation in Portugal.
1950 – Beginning of the provision of Heat Treatments.
1958 – The company is now known as F. Ramada Aços e Indústrias S.A., opening its branches in Porto, Lisboa, Águeda, Marinha Grande and Luanda.
1958 – The first punched angle was produced in Portugal under the Dexion licence.
1962 – In view of the growing development, a new industrial unit is created in Ovar, which would house the activities of Steel Cold Lamination and Steel Cold Rolling.
1970 – Investments were initiated in the production capacity and in the construction of a new Special Steel warehouse.
1989 – Renovation of the Heat Treatments unit and initiation of treatment using vacuum technology.
1997 – Initiation of machining services: face machining of parts. Certification by NP EN ISO 9002:2005.
2002 – Certification by NP EN ISO 9001:2000.
2010 – Provision of the Oxygen Cutting service and extension of the range of products with the commercialization of Stainless Steel.
2012 – Development of the range of products with the commercialization of Brass.
2013 – Development of machining services: thinning of parts and water drilling.
2013 – Start-up of the Anti Wear Steel and High Elastic Limit units.
2014 – Integration of one more machining service: custom manufacture of parts by milling.
2016 - Installation of two new 4 tons furnaces.
2017 - New Warehouse with capacity up to 60 tons and 2017 development of the products' range with the commercialization of Aluminum Alloys.
2018 - Quality Certification by 2018 NP EN ISO 9001:2015.
2020 - Environment Certification by NP EN ISO 14001:2015 2020 at Ovar's Headquarters and all branches.
2021 - Launch of the Customer Portal.
Opening of Marinha Grande's Service Center.
Implementation of the Automatic Warehouse of Steel Parts.
2022 - Certification in Safety and Health at Work, according to the ISO 45001:2018 standard, at Ovar and all branches.